Embrace all the Stitches ~ a retreat for knitters, April 2019
Embrace all the Stitches ~ April 12-14, 2019 
A weekend  knitting retreat experience in beautiful Kaslo, British Columbia.
Back by popular demand!

This year's retreat begins at noon on Friday and wraps up at noon on Sunday.
Once again, the Kaslo Hotel will be hosting us for the weekend.  You can find the hotel in downtown Kaslo at 430 Front Street.
The ticket price includes:
- two nights stay at the Kaslo Hotel;
- tea, coffee + snacks;
- most meals, including; Friday dinner, Saturday lunch & dinner, Sunday breakfast.

- yarn dyeing workshop and knitting workshops

- Sunday morning hike for the early birds
Ticket Pricing + Details:
Regular Single Occupancy Ticket ~ $828.95+ gst per person
Regular Double Occupancy Ticket ~ $643.25+ gst per person (shared room) Need a roommate?  I can help you find one
*Tickets are non-refundable after March 15th, 2019. When you purchase your ticket you will receive a confirmation of receipt.  If you request a refund before this date, a full refund will be issued minus a $50 administrative fee.*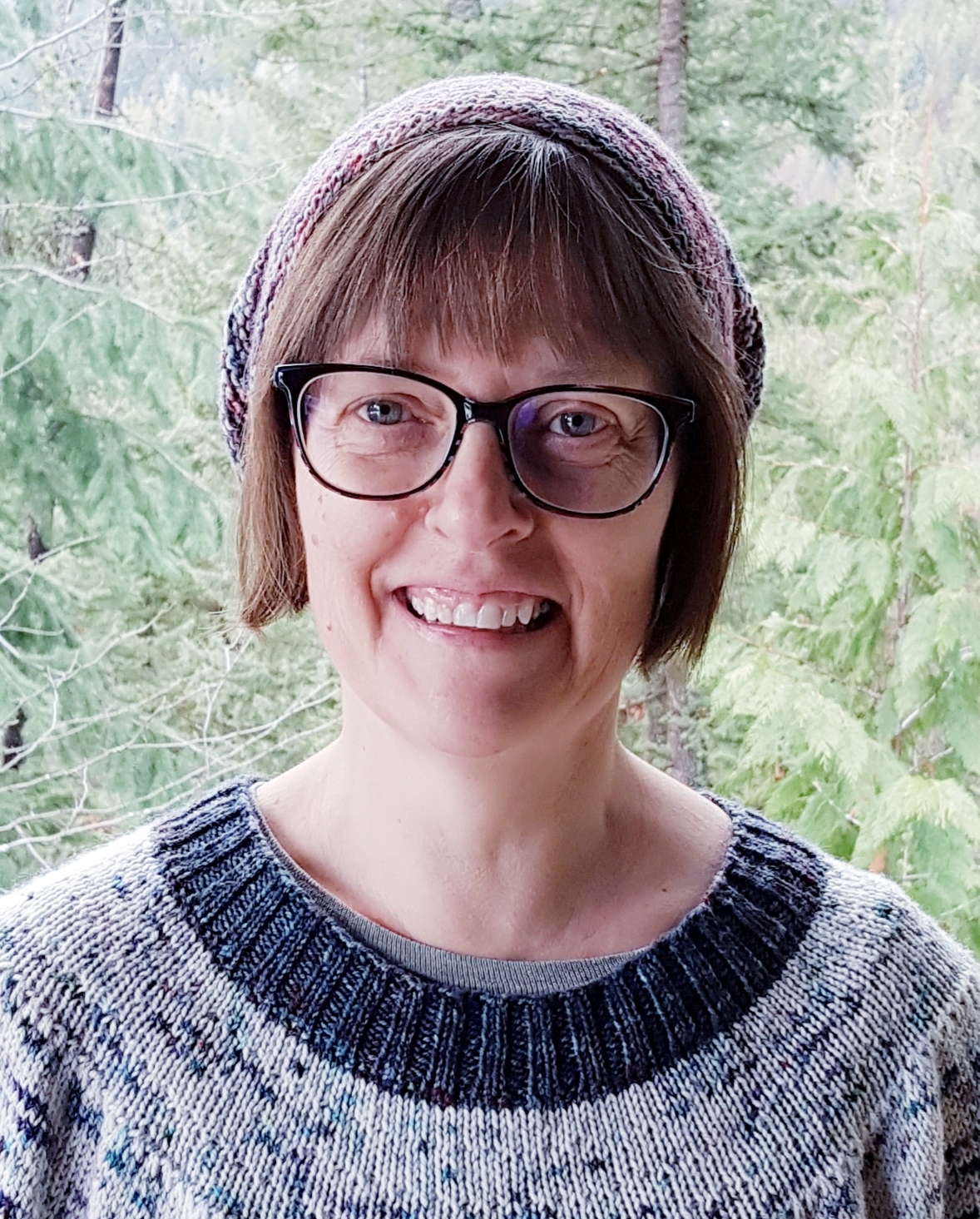 Susan Chamberlain ~ Embrace all the Stitches retreat co-ordinator and dyeing workshop instructor.
It's all about colour for Susan Chamberlain as the owner of Riverstone Yarns.  Susan has been playing
with wool and dyes for seven years and describes herself as the chief enabler in her hand dyed yarn business.  Most recently she has added to her dyeing repertoire by creating knitting patterns, teaching workshops and organizing knitting retreats.  Susan believes that everyone has a seed of creativity inside them and feels that it is her job to encourage people to grow through the mutual love of wool.  It is a true passion for her and it is a rare day to see her not knitting, talking about knitting or dreaming up new projects. 
She says "The world of wool is huge.  There are so many wonderfully talented people creating and I am so happy to be a part of it." 
 You can find Susan on Ravelry as Riverstone Yarns, Instagram as @riverstoneyarns, Facebook as Riverstone Yarns.
Janet Armstrong ~ Saturday workshop leader.  Success with Variegated Hand dyed Yarns.
Janet Armstrong founded the Okanagan Knitting Retreat with two friends in 1999 and recently passed along the coordination responsibilities to a knitting colleague.  The annual exercise of researching fresh ideas for the retreat helped hone her knitting skills to a high level.
Janet is a self-proclaimed knitting evangelist, and feels strongly that knitting is always mindful, never mindless, and ideally a daily practice.  The process is almost more important to her than the outcome; she has been known to linger over finishing a garment to make it last longer!  She has several projects in varying stages of complexity, from socks and shawls to sweaters and small items.  Double-knit lace using fine cotton and bamboo are recent obsessions as are projects based on controlling the pooling of hand-dyed yarn.
Find her on Ravelry as JanetArmstrong.
Kathy Chapman ~ Sunday morning workshop leader.  Before and After Knitter.
Kathy successfully lead us down the Fair Isle path with her patient instruction during our first ever retreat in November, 2018  and we are so happy that she is joining us again in April. 
Kathy says, "Knitting has been a bit of a passion for many
years so I have picked up a few "tools of the trade" along
the way. I'm especially intrigued with the "whys" of
knitting and seeing the joy when a knitter gets it.
Find me on Ravelry as tuesdayknitter."
Friday afternoon.  Hand dyed yarn workshop with Susan Chamberlain
Hand painting yarn the fun way with easy to use acid dyes!
In this three hour workshop you will hand paint super wash merino sport weight yarn, using two different techniques, learn how to apply acid dyes safely and to create a yarn that is uniquely yours.
At the beginning of class there will be a brief introduction into the world of dyeing, a discussion of handling dyes safely and presentation of examples of hand dyed yarns and knitted samples.
Time to dive into the colour!
First technique: we will apply dyes to a cake of sport weight yarn with the goal of creating a gradient effect.  Using liquid, ready to use acid dyes, we paint our yarn cake using condiment squeeze bottles, working from the centre to the outside.  If we are careful, we will achieve a gradient effect.  This method gives us some control but be ready for some fun surprises when we re-skein the yarn.  
Second technique:  we will hand paint two 50 gram skeins of sport weight yarn to create a variegated yarn by dyeing across the skein in a controlled fashion.
This workshop is suitable to beginners and is not an in depth class on colour theory.  It is a great opportunity to try hand dyeing without purchasing expensive dyes and yarn.
All techniques will be demonstrated first to guide participants in achieving their goals.  No experience is necessary.
All materials will be provided including; a wide palette of acid dyes and superwash wool yarns that are ready to work with.
Saturday morning and afternoon ~ 6 hour workshop with Janet Armstrong
Success with Variegated Hand-dyed Yarns
Discover how to assess a hand-dyed yarn and predict how it will or will not pool.  Learn a few tricks to determine how it will behave before you even knit a stitch. Get ideas on how to use the yarn in projects large and small.  Participants will work with the yarn they've dyed in the previous day's workshop.  The outcome will be a unique fingerless glove. 
 Sunday morning ~ 2 hour workshop with Kathy Chapman
The Before and After Knitter
Discover the wonderful world of gauge & blocking and why they are so important to every knitting project.
Before knitting our project.  Finding our gauge.
   - why do a swatch
   - how to do a swatch.  For example: in pattern, different needles, etc
   - What the swatch will tell you?
          stitches and rows per 10 cm
          hand of the fabric
          how does it wash up
          other uses for your swatch such as ratio for bands
After the knitting is done.  Blocking our garments.
    - why block
   - how to block ie: steam, wet, spray, pins and bars, etc
    - what does it do for the piece?
This workshop will help you learn best practices for a greater chance of success in your knitting. 

I hope you will join us!
If you have any questions please email Susan at  riverstoneyarns@gmail.com


Reviews